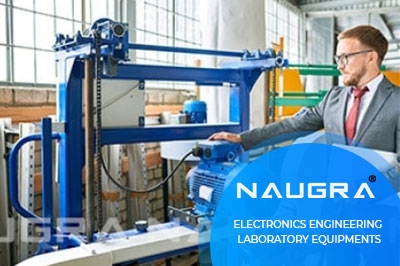 Naugraexport is a leading
electronics engineering laboratory equipments
manufacturers, suppliers and exporters from India that offers wide range of electronics engineering lab instruments at most competitive prices. These lab instruments are manufactured in compliance with the international quality standards.
We are manufacturer and supplier of all types of electronics engineering laboratory instruments for scientific instrumentation industry, university and research labs, science colleges, schools, engineering colleges, polytechnics, vocational training institutes, laboratories and various industries.
Naugraexport understands the requirements and complexities in the electronics engineering laboratory instruments industry, so our team of skilled and qualified professionals are dedicated to design and manufacture innovative and high-quality electronics engineering lab equipments that guarantee its smooth performance and long lasting service.
Some of the electronics engineering laboratory equipments are basic electronics laboratory equipments, digital electronics lab equipments, microprocessor lab equipments, microwave engineering lab equipments, industrial electronics laboratory equipments, telecommunication lab equipments, instrumentation and control lab equipments, electronics workbench etc.
Download Electronics Engineering Laboratory Equipments Catalogue